Make your own drinks at home: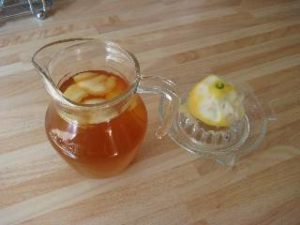 Iced Tea
Making your own drinks at home saves on packaging and on the energy used to manufacture and distribute drinks via a retail outlet. This picture illustrates the preparation of lemon tea. The instructions are:
After making normal tea there is often about half left in the teapot. Dilute this with cold water fill the pot, then pour into a jug.
Squeeze half a lemon. Add the juice to the diluted tea. Peel some of the outer parts of the skin and drop them in (they will sink later).
Put the jug into the fridge when cool enough.